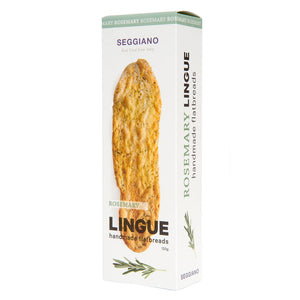 Handmade in the Piemonte region, these 'mother in law' tongue biscuits are awesome on their own or with cheese. A super thin crispy cracker from Piemonte. Vegan. Made with extra virgin olive oil. Simple, authentic ingredients. Handmade. Palm oil-free.
Seggiano thin, crispy rosemary flatbreads are a delicious and light antipasto snack for serving with cheeses, soups, dips and vegetables. Our artisan Italian Lingue are crackers as nature intended. The dough contains the simplest authentic ingredients, rolled out by hand, then baked to a crispy, golden flatbread. Perfect for antipasto snacking and essential for any cheeseboard.
Suitable to: Ovo Lacto vegetarians and vegans.
Ingredients: WHEAT flour, Italian extra virgin olive oil, yeast, sea salt, rosemary 0.7%
May contain traces of sesame, hazelnut, almond or walnut. The flour used in this flatbread is from a mill which also handles soy.
Always store this product away from light and heat. Once opened, seal the packet to make it airtight and consume within two weeks.
*Please Note – We have taken every reasonable precaution and proceeded with due diligence, however, we cannot control the risk of cross-contamination in the whole distribution chain. Therefore we cannot guarantee the total absence of any particular allergens.