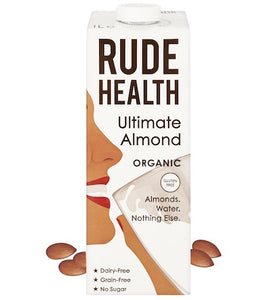 Pure Pleasure. Ultimate Almond. It's simple: We take organic Italian almonds, roast them and combine with spring water to create this subtle, creamy drink. It's our ultimate version of a nut milk first enjoyed by ancient Persians, thousands of years before it reached the coffee shops of London, Amsterdam and New York.
Organic
Gluten-Free
Grain-Free
Dairy-Free
No Added Sugar
Ingredients: water, organic almonds (6%). 
This product is: Free from dairy, gluten and no added sugar.
Suitable to: Ovo Lacto vegetarians and Vegans.
Allergens: Made in a facility that handles nuts
Please Note – We have taken every reasonable precaution and proceeded with due diligence, however, we cannot control the risk of cross-contamination in the whole distribution chain. Therefore we cannot guarantee the total absence of any particular allergens.