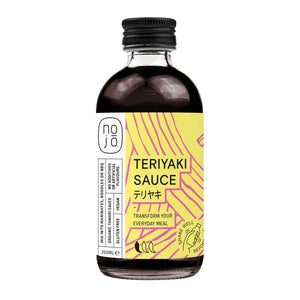 A vegan traditional Japanese sauce with an indulgent Togarashi spice twist. 

The first teriyaki sauce that is both vegan and gluten free
A versatile sauce and cooking ingredient for a deliciously sweet and piquant taste - add to noodles, stir fries, barbecued meat and veg or as a marinade
Made from just 8 ingredients, including rapeseed oil grown in the Cotswolds
Ingredients: Tamari Soy Sauce (SOYA), Water, Demerara Sugar, Rice Vinegar, Garlic, Ginger, Togarashi Spice Mix (Chilli, Orange Peel, Black SESAME, White SESAME, Sichuan Peppercorns, Ginger, Seaweed).

Storage: Ambient

Product Claims: vegan, vegetarian, dairy free, gluten free, no artificial colours, no artificial flavours, palm oil free, refined sugar free, wheat free

Made In: London, UK
What's Unique: We use rapeseed oil grown in the Cotswolds. Every sauce is prepared according to a traditional Japanese recipe using our the finest quality ingredients- gluten free soy sauce, A grade maple syrup, finest quality togarashi and other natural ingredients. We always aim at using minimally processed ingredients avoiding artificial sweeteners and refined oils as well as artificial flavourings, colourings and preservatives.

In All Honesty: Specially made for people who love cooking but are limited on time, who want to enjoy a nice warm broth with teriyaki, grilled salmon with sesame, prawns fried with a bit of sauce or a big warm noodle bowl with a bit of everything.