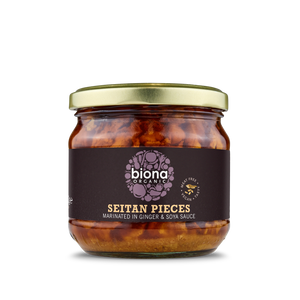 Organic, Marinated in ginger & soya sauce. Meat free, tasty, ready to eat seitan, add to stir-frys or salads. No BPA used in lid.
Ingredients: Wheat Gluten*, Tamari* (soya beans*, sea salt), Indian curry* (turmeric*, mustard seeds*, coriander seeds*, black pepper*, ginger*, garlic*, paprika*), paprika powder*, ginger powder* (0.04%), water.  * = Certified Organic Ingredients
This product is organic.
Suitable to: Ovo Lacto vegetarians and Vegans.
Please Note – We have taken every reasonable precaution and proceeded with due diligence, however, we cannot control the risk of cross-contamination in the whole distribution chain. Therefore we cannot guarantee the total absence of any particular allergens.