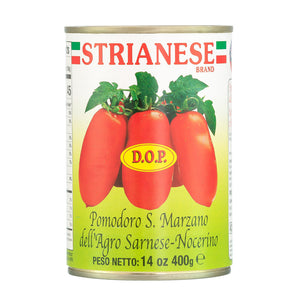 The Strianese production was started in 1987, by the Rega family, who have been preserving tomatoes for over fifty years. Certified provenance Italian peeled tomatoes. Guaranteed San Marzano variety. The best-peeled tomatoes for making sauces.
The go-to Italian peeled tomato for making sauces, this guaranteed provenance San Marzano is a kitchen staple for Italians. The soft, chunky texture and rich cooked tomato flavour are perfect for making sauces and lasagne.
Suitable to: Ovo Lacto vegetarians and vegans.
Ingredients: Whole peeled tomatoes, tomato puree.
This product is wheat-free.
Once opened, pour the product into a glass jar, keep in fridge at 4 degrees Celsius and use by two days.
*Please Note – We have taken every reasonable precaution and proceeded with due diligence, however, we cannot control the risk of cross-contamination in the whole distribution chain. Therefore we cannot guarantee the total absence of any particular allergens.