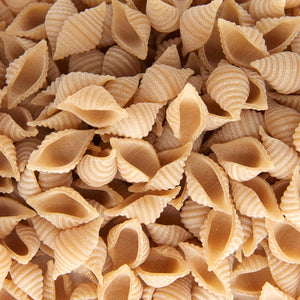 Spelt (T. aestivum subsp. spelta). 
Spelt, a hulled wheat, has less gluten than bread wheat and a rich nutty flavor. The earliest evidence of spelt is from 6000 BCE in the Caucasus region and southeastern Europe. Eight hundred years ago, Hildegard de Bingen, a German mystic-botanist-artist, praised spelt's qualities: "Spelt is the best of grains. It is rich, nourishing and milder than other grain. it produces a strong body and healthy blood to those eat it and makes the spirit light".

Spelt is an excellent source of carbohydrates and dietary fiber. It is particularly rich in iron, magnesium, phosphorous, zinc and niacin (vitamin B3) as well as micronutrients such as calcium and vitamin E.

Our White Spelt Conchiglie are made with stoneground white spelt so that none of the amazing nutritional and health benefits of this grain are lost in the milling process. Not to degenerate any of the vitamins, we produce and dry our pasta at low temperature. The same bouquet we enjoy when mixing spelt flour with water we recognise in our finished dry pasta as a sign that nothing is lost in our artisan process. Spelt tastes of toasted almond, light brown walnut, toffee, caramel.