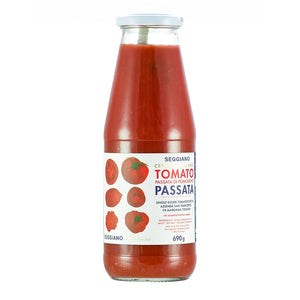 The essential Italian kitchen basic is grown in the Maremma, Southern Tuscany. Single estate tomato passata from Azienda San Francesco farm. From organic open field Tuscan tomatoes. An essential kitchen staple. Tomatoes are a favourite source of antioxidant lycopene.
Passata di pomodoro is an authentic Italian pantry staple, traditionally bottled in high summer for use in the winter months. Our passata is made with organically grown tomatoes from a farm in sunny southern Tuscany. This tomato puree is typically used as a foundation for a variety of sauces, sugos and soups.
Suitable to: Ovo Lacto vegetarians and vegans.
Ingredients: Organic sieved tomato 99%, organic basil, sea salt.
This product is organic and wheat-free.
Store this product away from direct source of heat and light. Once opened, refrigerate and consume within four days.
*Please Note – We have taken every reasonable precaution and proceeded with due diligence, however, we cannot control the risk of cross-contamination in the whole distribution chain. Therefore we cannot guarantee the total absence of any particular allergens.