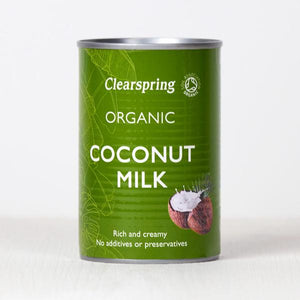 This rich and creamy organic coconut milk comes from the finest Sri Lankan coconuts which are simply shelled, shredded, pressed and filtered. With its mildly sweet flavour, it is ideal for use in Oriental and Indian dishes such as curries, soups and stir-fries as well as a dairy alternative in desserts and baking.
No additives, preservatives or thickeners. Dairy-Free. Very versatile.
Clearspring coconut milk has been packed in cans which have not been coated with BPA – known as with BPA n.i. (non intent). This means that PBA has not been added to the plastic lining in the tin but it is not BPA free as the manufacturer cannot guarantee that cross contamination has not occurred. Most other brands have not taken this step as it is more expensive to produce.
Suitable to: Ovo Lacto vegetarians, vegans and kosher. This product is organic.
 Ingredients: Water, coconut* (45%). *organically grown. Natural separation may occur.
 Please Note – We have taken every reasonable precaution and proceeded with due diligence, however, we cannot control the risk of cross-contamination in the whole distribution chain. Therefore we cannot guarantee the total absence of any particular allergens.