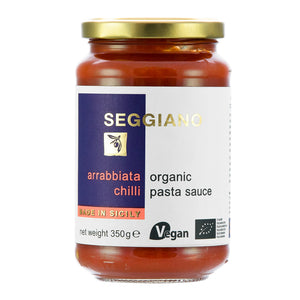 Quality and provenance of ingredients, cooked in the traditional Italian way without starch thickeners, sugar or flavour enhancers, make Seggiano the best tasting authentic pasta sauces. Authentic Italian recipe prepared in Sicily with 100% Italian ingredients. Naturally sweet sun-ripened tomatoes - no sugar or flavour enhancers. Vegan and organic. Made with extra virgin olive oil from a Sicilian award winning mill. Most competitors use olive oil or sunflower oil!
A fiery, classic organic Arrabbiata sauce from southern Italy, perfect for passionate hot heads. Made in Sicily, this flavourful and suitably piccante pasta sauce has a perfect balance of spicy Sicilian chilli and sun sweetened Italian tomatoes. We found that using a really good Sicilian extra virgin oil made all the flavours sweeter and richer. Our Arrabbiata sauce is a traditional Italian recipe made the traditional way, with excellent ingredients.
Suitable to: Ovo Lacto vegetarians and vegans.
Ingredients: Chopped & sieved tomatoes* (Italian origin) 83%, chilli* 6%, Sicilian extra virgin olive oil*, onion*, carrot*, sea salt, garlic*. *organic ingredient.
This product is organic and wheat-free.
Store in a cool place. Once opened refrigerate and consume within four days.
*Please Note – We have taken every reasonable precaution and proceeded with due diligence, however, we cannot control the risk of cross-contamination in the whole distribution chain. Therefore we cannot guarantee the total absence of any particular allergens.