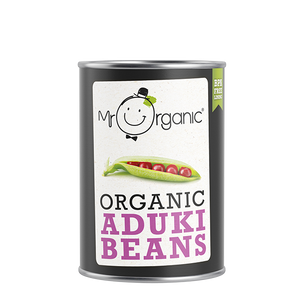 This exotic little superstar goes back thousands of years to ancient East-Asia where she was cultivated for her sweet, nutty flavour!
All Mr. Organic food is made with organically grown ingredients and love for our planet.
– No Added Salt or Sugar
– 1 of Your 5 a Day
– BPA Free Packaging
– Gluten-Free
– Organic & Natural
– Cooked & Ready to Eat
– Vegan
– Zero Air Miles
Suitable to: Ovo Lacto vegetarians and Vegans. This product is gluten-free.
Ingredients: Organic Aduki Beans and water
Once opened, remove me from my can, put me in a non-metallic container and keep me refrigerated. I'll remain totally scrumptious for 72 hours.
Please Note – We have taken every reasonable precaution and proceeded with due diligence, however, we cannot control the risk of cross-contamination in the whole distribution chain. Therefore we cannot guarantee the total absence of any particular allergens.