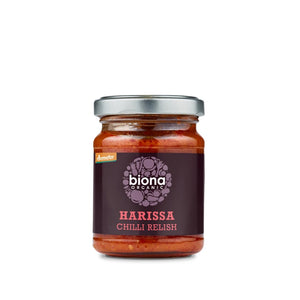 A spicy, wonderfully aromatic paste, our Biona Organic Harissa Chilli Relish is just the thing to waken your taste buds. With its fiery red colour and fragrant aroma, this tempting relish can be added to grain dishes, soups and casseroles to bring about new worlds of flavour.
Ingredients: Chilli**(25%), carrots**, tomatoes**, onions**, garlic**, sunflower oil**, cider vinegar**, white wine vinegar**, sea salt, coriander*, caraway seeds* **=From Organic Biodynamic Agriculture.
This product is organic.
Suitable to: Ovo Lacto vegetarians and Vegans.
Please Note – We have taken every reasonable precaution and proceeded with due diligence, however, we cannot control the risk of cross-contamination in the whole distribution chain. Therefore we cannot guarantee the total absence of any particular allergens.