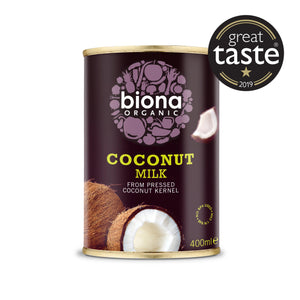 Bringing a little luxury to dishes, our silky coconut milk can be used in everything from aromatic curries to dairy-free ice cream. Use as a vegan cream substitute and pour straight into plain rice or chickpea dahls to add subtle sweetness, or try a little stirred into your morning smoothie for a tropical twist. Pressed from coconut kernels, our natural coconut milk contains no artificial ingredients.
As a result, the coconut fat and water content can separate, but this has no impact on the final quality of the product: simply shake the can or blend the contents to combine. This coconut milk comes in a ready-to-use, non- BPA lined can complete with a ring-pull lid, for effortless use in your cooking. Love Coconuts?
Ingredients: Coconut (50%), Water.
This product is organic. Dairy-free and wheat free.
Suitable to: Ovo Lacto vegetarians and Vegans.
Please Note – We have taken every reasonable precaution and proceeded with due diligence, however, we cannot control the risk of cross-contamination in the whole distribution chain. Therefore we cannot guarantee the total absence of any particular allergens.