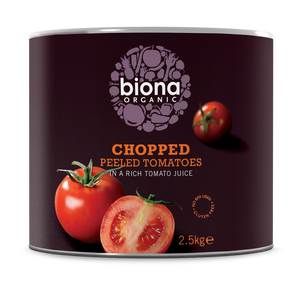 These Biona Organic Chopped Tomatoes bring the true taste of Italy right into your kitchen. Our tomatoes are grown on organic sustainable farms and left to mature and ripen under the Italian sun. They are then peeled, chopped and marinated in a rich tomato sauce before being canned – simple, fresh, nutritious and full of flavour. Tomatoes at their finest- our Chopped Tomatoes have no added salt or sugar and are citric acid-free too! Enjoy as part of your five a day.
Ingredients: Chopped Peeled Tomatoes (60%), Tomato Juice.
This product is free from dairy and wheat. Organic.
Suitable to: Ovo Lacto vegetarians and Vegans.
Please Note – We have taken every reasonable precaution and proceeded with due diligence, however, we cannot control the risk of cross-contamination in the whole distribution chain. Therefore we cannot guarantee the total absence of any particular allergens.