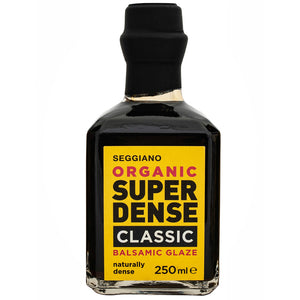 The finest chefs' glaze: super thick and perfect for enhancing the flavour and presentation of dishes. Naturally dense, sweet organic balsamic glaze. No thickening agents - the density is from natural reduction. Free from added sulphites – only naturally occurring antioxidants. Use to finish dishes, enrich sauces and add to desserts.
A naturally dense, rich and luscious balsamic vinegar glaze. Made with Lambrusco di Sorbara grapes from single-estate vineyards in the province of Modena, this super thick dark balsamic glaze is a harmonious combination of tartness and sweetness, which adds dimension to marinades and dressings. This natural Super Dense Balsamic Glaze is also thick enough to use for finishing dishes.
Ingredients: Organic wine vinegar, organic cooked grape must.
Suitable to: Ovo Lacto vegetarians and Vegans.
This product is Organic and wheat-free.
*Please Note – We have taken every reasonable precaution and proceeded with due diligence, however, we cannot control the risk of cross-contamination in the whole distribution chain. Therefore we cannot guarantee the total absence of any particular allergens.