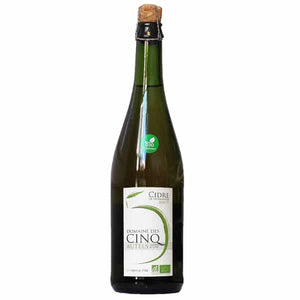 Made using traditional methods this is a 100% pure juice cider made from a blend of dessert, cooking and cider apples – many of them ancient Norman varieties. Despite its name, the Brut is no more than medium dry. It's crisp, clean and refreshing and its complex apple flavours shine through. Presented in a corked, wired bottle.
Suitable to: Ovo Lacto vegetarians and vegans. No sulphur added.
General Facts and Information:
ABV : 

5.3%

Style : 

2 – Fruity Dry

Closure : 

Natural

Country : 

France

Bottle Size : 

75cl

Further Information : 

No Sulphur Added,
Vegan,
Vegetarian
*Please Note – We have taken every reasonable precaution and proceeded with due diligence, however, we cannot control the risk of cross-contamination in the whole distribution chain. Therefore we cannot guarantee the total absence of any particular allergens.