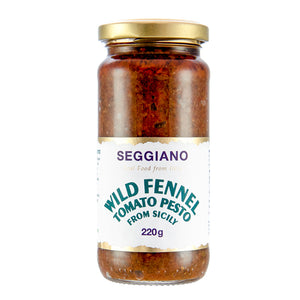 This delicious and unusual pesto, made entirely from Sicilian ingredients, is great with pasta, as a salsa or a dip. Made with wild Sicilian fennel leaf and Sicilian Avola almonds. Authentic Sicilian recipe prepared with quality ingredients. Vegan – with extra virgin olive oil rather than cheap olive oil or seed oil. With extra virgin olive oil rather than cheap olive oil or seed oil.
A uniquely delicious Sicilian pesto recipe made with naturally abundant wild fennel leaf from the Monti Iblei region of Ragusa, in southeastern Sicily. Typically, the aromatic flavour of local wild fennel leaf is used in many sauces and cured meats, and when combined with local Avola almonds in a rich tomato base, results in a delicious creamy pesto sauce that is overflowing with lively flavours.
Suitable to: Ovo Lacto vegetarians and Vegans.
Ingredients: Tomato salsa 43% (tomatoes, salt), sun-dried tomatoes 28% (tomatoes, salt), Italian extra virgin olive oil, wild fennel leaves 9%, Avola ALMONDS, cane sugar, oregano, chilli.
This product is wheat-free.
Once opened, refrigerate and use within ten days, keeping the surface covered with a layer of extra virgin olive oil. Store away from heat and light.
*Please Note – We have taken every reasonable precaution and proceeded with due diligence, however, we cannot control the risk of cross-contamination in the whole distribution chain. Therefore we cannot guarantee the total absence of any particular allergens.