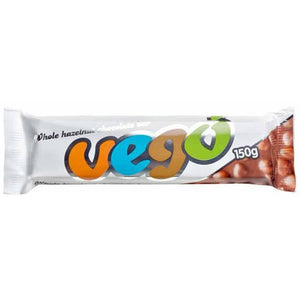 The ultimate classic vegan chocolate bar! Just divine!
This unique giant bar is made of the finest hazelnut paste with roasted whole hazelnuts and our best cocoa.
Gianduja chocolate (cocoa solids: 31 % minimum) with whole hazelnuts (20 %). 
Suitable to: Vegans and Vegetarians.
Ingredients: Ingredients: Cane sugar*, Whole hazelnuts* (20 %), Cocoa mass*, Hazelnut paste*, Cocoa butter*, Emulsifier: Sunflower lecithin*, Vanilla extract*. * = organic
Sugar, cocoa, vanilla are sourced, traded and audited as Fairtrade, total 63,6 %. Fairtrade sugar and cocoa may be mixed with non-certified sugar and cocoa on a mass balance basis.
Allergens:  May contain traces of other nuts and milk.

Please Note – We have taken every reasonable precaution and proceeded with due diligence, however, we cannot control the risk of cross-contamination in the whole distribution chain. Therefore we cannot guarantee the total absence of any particular allergens.