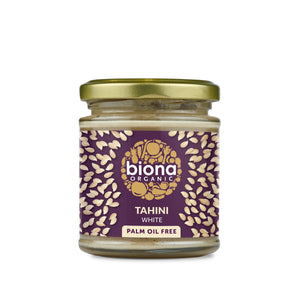 Biona organic tahini is made using hulled sesame seeds for an extra smooth texture. Since we do not use palm fat or emulsifiers, the seed oil may separate - this does not affect the quality - simply mix back in to restore the creamy consistency.
Ingredients: Sesame Seeds.
This product is organic. Dairy and wheat free.
Suitable to: Ovo Lacto vegetarians and Vegans.
Please Note – We have taken every reasonable precaution and proceeded with due diligence, however, we cannot control the risk of cross-contamination in the whole distribution chain. Therefore we cannot guarantee the total absence of any particular allergens.