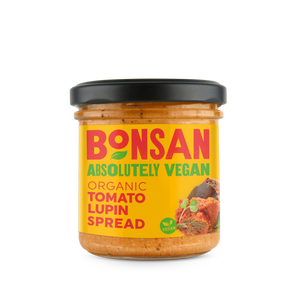 The new Bonsan Tomato and Lupin Spread is delicious as well as wholesome. The lupin bean belongs to the legume family, so is naturally high in both protein and fibre. The sweet tomatoes complement the subtle flavour of lupin, making this spread the perfect match when paired with toast, raw veggies, or in a pasta sauce.

This product is organic. Palm fat-free.
Suitable to: Vegans and Vegetarians.
Ingredients: Tomato puree (23%), tomato (22%), water, sunflower oil, sunflower seeds, lupin flour (6%), onions, garlic, sea salt, agave syrup, basil, lemon juice concentrate, potato starch, pepper.
Please Note – We have taken every reasonable precaution and proceeded with due diligence, however, we cannot control the risk of cross-contamination in the whole distribution chain. Therefore we cannot guarantee the total absence of any particular allergens.