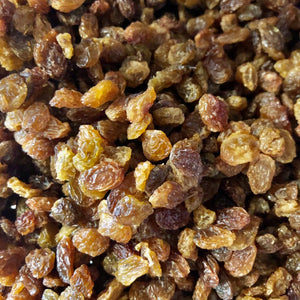 Organic Sultanas complying general characteristics of the nature and crop. The grapes are grown organically. No preservatives or additives are used to promote colour retention. The special and super special cleaned sultanas are selected on the tables once , twice or three times depending on the specification Taste: Natural sweet flavour with no off odours. Texture: Soft to firm without unduly hard particles. Colour: Typically, amber to black, free-flowing berries. Ingredients: organic Sultanas 99.7%, organic Sunflower Oil 0.3% added as a processing agent and to prevent aglomeration.
Suitable to: Ovo Lacto vegetarians, Vegans and Orthodox Jewish Kosher.
This product is Organic, GM-free and Fairtrade food.
Gluten-free. Wheat and Oat Free.
*Price stated per 100 g. If you want to buy 500 g for example you have to click in 05 for the quantity of the product and to check the total amount.
**Please Note – We have taken every reasonable precaution and proceeded with due diligence, however, we cannot control the risk of cross-contamination in the whole distribution chain. Therefore we cannot guarantee the total absence of any particular allergens.