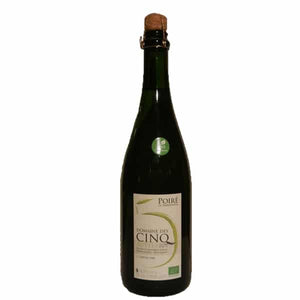 This off-dry style of Poiré – or pear cider – fits in perfectly beside the superb Cidre de Normandie from Cinq Autel. That rustic feel is obvious from the first sip, yet the flavour heads down a different road into what is an obviously very pear-orientated area. Refreshing doesn't even begin to describe the tantalising flavours encountered within. It's a clear winner in warmer weather but try it with some fruit puds too…
Suitable to: Ovo Lacto vegetarians and vegans.
General Facts and Information:
ABV : 

4.5%

Style : 

3 – Medium

Closure : 

Natural

Country : 

France

Bottle Size : 

75cl

Further Information : 

Vegan,
Vegetarian
*Please Note – We have taken every reasonable precaution and proceeded with due diligence, however, we cannot control the risk of cross-contamination in the whole distribution chain. Therefore we cannot guarantee the total absence of any particular allergens.