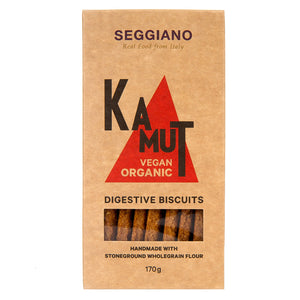 Organic wholegrain digestive biscuits handmade in Puglia. Vegan & a good source of iron & fibre. Made with stone-ground organic Kamut. Minimally sweetened & yeast-free. Made with cold-pressed sunflower oil. Handmade by a family bakery in Puglia.
Deliciously simple and minimally sweetened wholegrain digestive biscuits, handmade by a family bakery in Puglia. Seggiano stoneground wholegrain Kamut® Digestives are a source of fibre, iron and phosphorus. Our crunchy, hearty biscuit is free of yeast and dairy and uses quality, cold-pressed oil. Enjoy our traditional Italian breakfast biscuit with both sweet and savoury toppings.
Suitable to: Ovo Lacto vegetarians and vegans. This product is organic.
Ingredients: Wholemeal Kamut® KHORASAN flour 26%, Kamut® KHORASAN flour 23%, corn syrup and BARLEY malt (corn flour, BARLEY malt), cold-pressed sunflower oil, Kamut® KHORASAN flakes 12%, baking agent: sodium bicarbonate, sea salt.
Store in a cool, dry place away from direct light. Once opened consume within three weeks.
*Please Note – We have taken every reasonable precaution and proceeded with due diligence, however, we cannot control the risk of cross-contamination in the whole distribution chain. Therefore we cannot guarantee the total absence of any particular allergens.