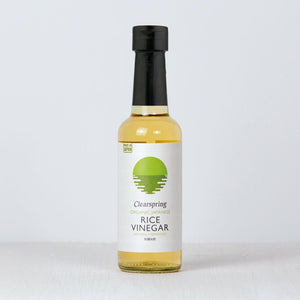 This vinegar provides a stimulating contrast of flavour that brings almost any food to life. Besides being a mainstay in salad dressings, pickling mixtures and marinades, it also perks up vegetable dishes, sauces, dips and spreads.
Use in place of vinegar, but remember that due to its inherent saltiness, any salt in the recipe will need to be reduced or eliminated.
 Suitable to: Ovo Lacto vegetarians and vegans. This product is organic.
 Ingredients: Water, cultured rice* (14%). *organically grown
 **Please Note – We have taken every reasonable precaution and proceeded with due diligence, however, we cannot control the risk of cross-contamination in the whole distribution chain. Therefore we cannot guarantee the total absence of any particular allergens.