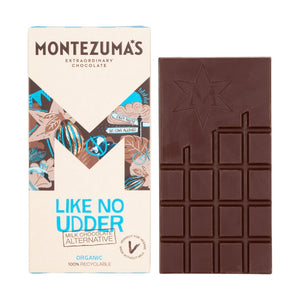 Like No Udder is our wonderful creation of chocolate that is as close to milk chocolate as possible, without ever having gone near a cow! It is as smooth and creamy and as high in cocoa as our regular milk chocolate but made without milk. In fact, it's Like No Udder!
This product is 100% recyclable packaging.
Suitable to: Ovo Lacto vegetarians and Vegans. This product is gluten-free and GM-free.
Ingredients: Organic Cane Sugar, Organic Cocoa Butter, Organic Cocoa Mass, Organic Rice Powder (Organic Dried Rice Syrup, Organic Rice Starch, Organic Rice Flour) & Organic Vanilla Extract
Typical values as per 100g - Energy (Kcal) 579kcal, Energy (KJ) 2410kj, Fat 40g, Of which: Saturates 24g, Carbohydrates 51g, Of which: Sugars 36g, Fibre 4g, Protein 4g, Salt 0.05g
ALLERGY INFORMATION : VEGAN • MAY CONTAIN TRACES OF MILK, NUTS & PEANUTS • FREE FROM: COLOURINGS, GLUTEN, GM & PRESERVATIVES
Please Note – We have taken every reasonable precaution and proceeded with due diligence, however, we cannot control the risk of cross-contamination in the whole distribution chain. Therefore we cannot guarantee the total absence of any particular allergens.