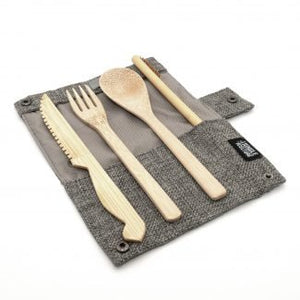 Jungle Culture Bamboo Cutlery Set in Dark Grey
Our reusable Bamboo Cutlery is ethically sourced and handmade in Vietnam by skilled local artisans at our crafts workshop. Each set of eco-friendly Jungle Culture Bamboo Cutlery Set in Dark Grey comes complete with a serrated bamboo knife, sturdy bamboo fork, and a bamboo tablespoon as well as a bamboo straw and coconut fibre straw cleaning brush.
Furthermore, the entire set is organic and natural and comes packaged in a natural jute presentation bag.
Jungle Culture works directly with small, family-run farms and craft workshops to create unique environmentally friendly products. As a result, they have a low-impact on our planet and your pocket! Â By working directly with farmers and local craftsmen we have made our supply chain 100% transparent. We eliminated middle-men so that the products you love are cheaper and more ethical!
Due to its lightweight & compact size, it will fit easily into your handbag or backpack.
Environmental
Sustainable
Lightweight and portable
Non-toxic and durable
Zero waste cutlery
Jungle Culture's main aim is to solve the problem of waste on our beautiful planet and our prices reflect that. We aren't driven by profit, but by the desire to make low-impact products accessible to all who choose to buy them.