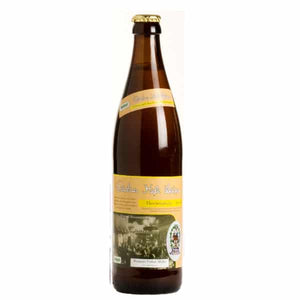 Top-quality wheat beer, naturally cloudy and with a fruity flavour. Made from 50% wheat and 50% barley malts. Before bottling unfermented beer wort is added so that the beer is still fermenting in the bottle. This bottle conditioning gives the beer its dense foaming head as well as its refreshing character and cloudy appearance. Serve slightly chilled and pour with care.
Suitable to: Ovo Lacto vegetarians and vegans.
General Facts and Information:
ABV : 

5.1%

Closure : 

Crown

Country : 

Germany

Type : 

Ale

Bottle Size : 

50cl

Further Information : 

Vegan,
Vegetarian
*Please Note – We have taken every reasonable precaution and proceeded with due diligence, however, we cannot control the risk of cross-contamination in the whole distribution chain. Therefore we cannot guarantee the total absence of any particular allergens.