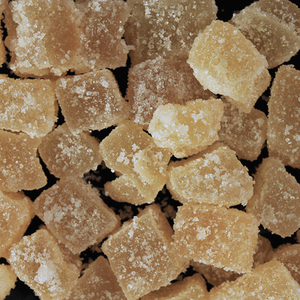 Hand trimmed ginger rhizomes (Zingiber officinale), cut to size and shape, dusted in sugar. Prepared from sound, fresh, young ginger. Washed to remove foreign matter. Cut to size and shape, preserved in heavy brine and SO2. Flushed in running water to remove brine. Cooked and stabilised in syrup. Drained and baked in the oven to crystallize. Dusted with sugar. Taste: typical of crystallised ginger, spicy, sweet, with some citrus top notes. No off flavours or taints. Texture: firm, with a crisp bite, not woody or fibrous (physical fibre max 10%). Colour: even, golden yellow. Ingredients: Ginger 91%, Sugar 9%.
Suitable to: Ovo Lacto vegetarians and Vegans.
This product is GM-free and Fairtrade food.
Contains Sugar. Gluten-free. Wheat and Oat Free.
*Price stated per 100 g. If you want to buy 500 g for example you have to click in 05 for the quantity of the product and to check the total amount.
**Please Note – We have taken every reasonable precaution and proceeded with due diligence, however, we cannot control the risk of cross-contamination in the whole distribution chain. Therefore we cannot guarantee the total absence of any particular allergens.