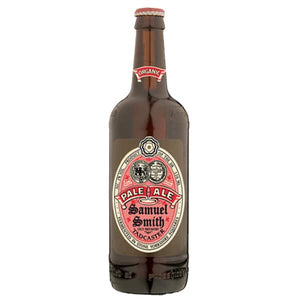 An organic bitter from a highly respected independent brewery (Yorkshire's oldest). With a clean hoppy nose and a dry, slightly zesty flavour this is a delicately flavoured light golden ale. Samuel Smith's century-old yeast strain gives the beer its distinctive character in which the subtle fruity esters interact with a background of maltiness and fresh hops.
Suitable to: Ovo Lacto vegetarians and vegans. This product is organic.
General Facts and Information:
ABV : 

5%

Closure : 

Crown

Country : 

UK

Bottle Size : 

55.cl

Further Information : 

Vegan,
Vegetarian

Type : 

Lager
*Please Note – We have taken every reasonable precaution and proceeded with due diligence, however, we cannot control the risk of cross-contamination in the whole distribution chain. Therefore we cannot guarantee the total absence of any particular allergens.