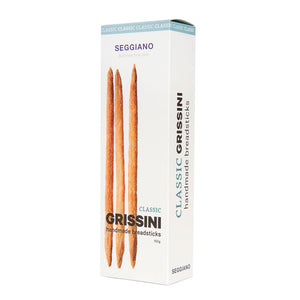 Grissini breadsticks are the classic appetiser from Piemonte, in northern Italy, where the recipe was invented three centuries ago. Artisan breadsticks as nature intended. A source of fibre. Handmade. Vegan. Made with organic extra virgin oil. Simple, authentic ingredients hand-rolled and fast baked.
Grissini breadsticks are a perfectly crunchy, classic appetiser from Piemonte, Italy. Seggiano Classic grissini are handmade by a family bakery, which has specialised in making artisan grissini since 1945. The dough is made using simple, authentic ingredients, hand-rolled into their long, characteristic shape and then fast baked. A classic recipe, using locally milled flour and maize, as well as quality Italian extra virgin olive oil.
Suitable to: Ovo Lacto vegetarians and vegans.
Ingredients: WHEAT flour, maize flour, Italian extra virgin olive oil, sea salt, yeast, BARLEY malt.
May contain traces of sesame, hazelnut, almond or walnut. The flour used in these breadsticks is from a mill which also handles soy.
Always store this product away from light and heat. Once opened, seal the packet to make it airtight and consume within two weeks.
*Please Note – We have taken every reasonable precaution and proceeded with due diligence, however, we cannot control the risk of cross-contamination in the whole distribution chain. Therefore we cannot guarantee the total absence of any particular allergens.