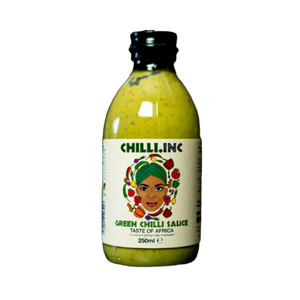 Hot chilli sauce blend with rich umami flavour.  
Hot chilli sauce blend with rich umami flavour.
Fermented Chili sauce promotes healthy gut.
Great for marinades, grills and stir fries or as a dip. For quick meals pour on hot rice, chips and burgers. Ideal for butchers, cafes, caterers and busy cooks.
Ingredients: green pepper, chilli, olive oil, white wine vinegar, onion, locust beans, garlic, salt, onion powder, garlic powder
Storage: Ambient

Product Claims: vegan, vegetarian, palm oil free, no artificial colours of flavours, sugar free

Made In: London, UK
What's Unique: This is an authentic West African chilli sauce with bold traditional flavours. The sauce is allergen free, gluten free, vegan and suitable for omnivores. The locust beans in the sauce are sourced directly from Western Nigeria and they also add a depth of umami flavour that is rare to find in other spicy sauces.
In All Honesty: It works well for chilli lovers who love to experiment or inflame their taste buds.