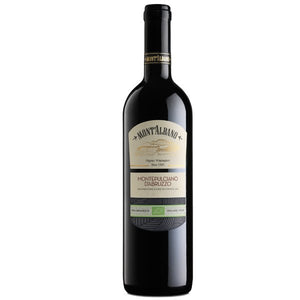 This excellent Montepulciano has a very fresh feel thanks to the wine not seeing any oak until a proportion is aged in oak barrels once the winemaking process is complete. The result is a deceptively complex bottle which shows off the classic nature of the Montepulciano grape. You can expect red and black berries, a twist of black pepper and a lovely mouth feel thanks to a little structure in the wine, and a subtle yet spicy finish.
Suitable to: Ovo Lacto vegetarians and vegans. This product is organic.
General Facts and Information:
Grapes : 

Montepulciano

Vintage : 

2018

ABV : 

13%

Style : 

C – Medium bodied

Type : 

Red

Closure : 

Screw

Country : 

Italy

Bottle Size : 

75cl

Further Information : 

Vegan,
Vegetarian
*Please Note – We have taken every reasonable precaution and proceeded with due diligence, however, we cannot control the risk of cross-contamination in the whole distribution chain. Therefore we cannot guarantee the total absence of any particular allergens.