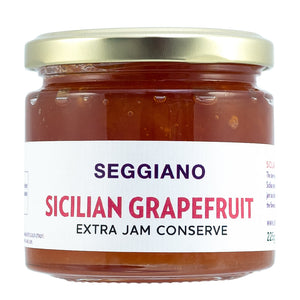 Delicious experience to your breakfast table of the freshly harvested pink grapefruit. Sicilian pink grapefruit extra fruit marmalade. Minimum heat processing delivers maximum flavour. No pectin.
Sweet and tangy marmalade made of freshly harvested pink grapefruit from Sicily. Minimal pasteurisation and vacuum sealing preserves the natural aroma and flavour of the fruit and brings it straight to your breakfast table.
Suitable to: Ovo Lacto vegetarians and vegans. This product is wheat-free.
Ingredients: Pink grapefruit 82%, cane sugar, lemon juice.
Store away from heat & light. Once opened refrigerate and consume within one week.
*Please Note – We have taken every reasonable precaution and proceeded with due diligence, however, we cannot control the risk of cross-contamination in the whole distribution chain. Therefore we cannot guarantee the total absence of any particular allergens.