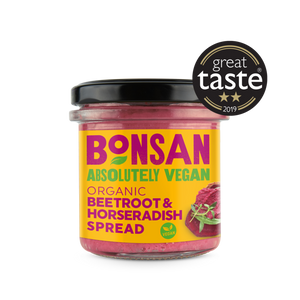 Bonsan vibrant red Beetroot & Horseradish spread really packs a punch. Made from earthy beetroots, fiery horseradish and sunflower seeds this healthy spread is the perfect accompaniment spread onto toast or in sandwiches, or even used as a dip for crudités.
This product is organic. Palm fat-free.
Suitable to: Vegans and Vegetarians.
Ingredients: Beetroot (39%), sunflower seeds, water, horseradish paste (10%) (horseradish (78%), water, spirit vinegar, sea salt), sunflower oil, beetroot juice concentrate (4%), corn starch, lemon juice concentrate, sea salt, horseradish powder (1%), apple juice concentrate, distilled vinegar.

Please Note – We have taken every reasonable precaution and proceeded with due diligence, however, we cannot control the risk of cross-contamination in the whole distribution chain. Therefore we cannot guarantee the total absence of any particular allergens.