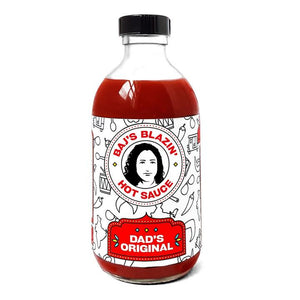 Punjabi hot sauce. 
A great all rounder Punjabi hot sauce. The hottest of the range, made with scotch bonnets and green finger chillies.
Handmade in Greenwich by a family run business.
Gluten free, vegan and made with all natural ingredients.
Ingredients: Sieved tomatoes (passata), onions, red peppers, garlic, scotch bonnet chillies, green finger chillies, brown sugar, salt, distilled vinegar, garlic powder
Storage: Ambient

Product Claims: vegan, vegetarian, dairy free, gluten free, nut free

Made In:  Greenwich, UK
What's Unique: Flagship product, made from a 25 year old family recipe. Each flavour is named after a loved family member. All natural ingredients, with a 12 month shelf life. Unique slow cooking processes bring out deep flavours and fresh herbs provide an uplifting heat.
In All Honesty: Packs a fiery punch. Suited to consumers who love heat.