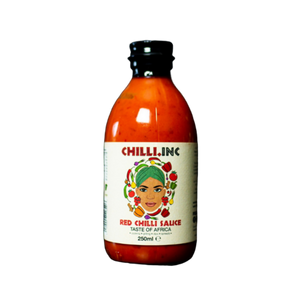 Medium Heat Chilli sauce blend.  Case of 8 x 250ml
Fresh taste with aroma of citrus, ginger, garlic and turmeric. Original style no added sugar or additives.
Great for marinades, grills and stir fries or dips. Ideal for uni/college students to top up rice or noodles with some boiled eggs or prawns, for cafes, farm shops and butchers.
Ingredients: red pepper, tomatoes, olive oil, white wine vinegar, onion, lemon, ginger, scotch bonnet chilli, salt, onion powder, garlic powder, turmeric

Storage: Ambient

Product Claims: vegan, vegetarian, palm oil free, no artificial colours or flavours, sugar free

Made In: London, UK
What's Unique: The red sauce is spicy with a subtle sweet flavour that resonates with a lot of expats. The authentic taste of cooked chilli is easy on the palate, aromatic, flavourful and is ideal to enhance your meal. The method used to cook the chillis is akin to the traditional way of making African sauces. The uses of the sauce range from a marinade to a base sauce for a multitude of other dishes.

In All Honesty: It works well for chilli lovers who love to experiment or inflame their taste buds.