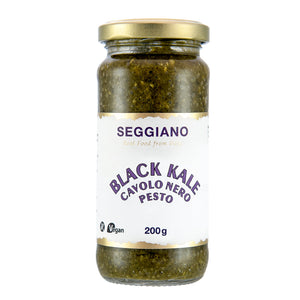 This is the only kale pesto in the Uk market. Simple and delicious cavolo nero pesto. Vegan – no cheese, so everyone can enjoy it. With extra virgin olive oil rather than cheap olive oil or seed oil.
An innovative and unique variation of a classic Italian pesto recipe, made with black cabbage or Tuscan Kale. Our delicious kale pesto blends together the deep and earthy, leafy green flavours of this hearty winter vegetable with rich extra virgin olive oil and cashew nuts for a creamy texture. It doesn't contain cheese and can be enjoyed by vegans and non-vegans alike, as a delicious dip and with rice, or pasta.
Suitable to: Ovo Lacto vegetarians and Vegans.
Ingredients: Extra virgin olive oil, Tuscan black kale 43%, CASHEW NUTS, sea salt, vinegar, acidity regulator: citric acid.
This product is gluten-free and wheat-free.
Once opened, refrigerate and use within one month, keeping the surface covered with a thin layer of extra virgin olive oil. Store away from heat and light.
*Please Note – We have taken every reasonable precaution and proceeded with due diligence, however, we cannot control the risk of cross-contamination in the whole distribution chain. Therefore we cannot guarantee the total absence of any particular allergens.