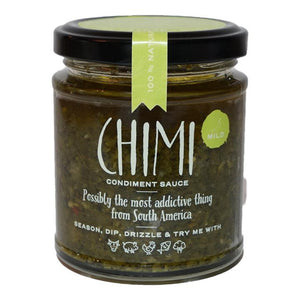 A delicious, versatile condiment - possibly the most addictive thing from South America. 
100% natural, vegan friendly and produced in the UK

Can be used as a sauce, dip or marinade

Made from a recipe that has been carefully refined over the last 10 years, ensuring that there's nothing but goodness in every jar.
Ingredients: Olive oil, jalapeno peppers, shallot, white wine vinegar, parsley, Himalayan pink sea salt, garlic, chilli, oregano.

Storage: Ambient

Product Claims: vegan, vegetarian, dairy free, no artificial colours, no artificial flavours, nut free, palm oil free, refined sugar free, soya free, sugar free, wheat free

Made In: Kingston upon Thames, UK
What's Unique: An amazing addition to any meal, it elevates the simplest dish to a new level.It is quick and easy to use, season, dip or drizzle with CHIMI.

In All Honesty: This product is extremely versatile and can be used as a sauce, a dip or a marinade. It is very addictive once you start, you just can't stop. We call it the perfect healthy addiction.