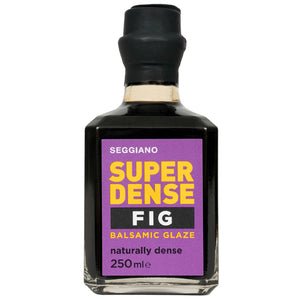 A naturally dense and deliciously figgy balsamic vinegar glaze, made without thickeners or colouring. Naturally dense, rich and figgy balsamic glaze. Made without thickening agents - the density is from natural reduction. No added sulphites – contains only naturally occurring antioxidants. Use to finish dishes, enrich sauces and add to desserts
A naturally dense, deliciously rich fig balsamic vinegar glaze, made in Modena. Made with luscious thick fig extract blended with balsamic vinegar, it adds rich caramel and fig flavours to both sweet and savoury dishes. Use in marinades, roasts and to dress salads. Our lovely fig balsamic also brings a sophisticated richness to Bloody Mary cocktails and creamy desserts.
Ingredients: Cooked grape must, wine vinegar, fig extract 24%.
Suitable to: Ovo Lacto vegetarians and Vegans.
This product is wheat-free.
*Please Note – We have taken every reasonable precaution and proceeded with due diligence, however, we cannot control the risk of cross-contamination in the whole distribution chain. Therefore we cannot guarantee the total absence of any particular allergens.