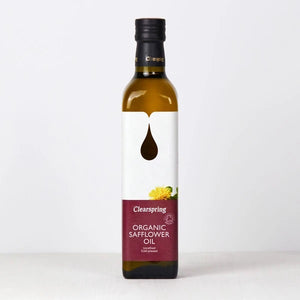 With a slightly sweet, nutty taste, safflower is a delicious and nutritious oil. It has the highest omega 6 content of any of our oils as well as containing omega 9; it is also a good source of vitamin E and you can even use it as a moisturiser.
The safflower plant with its deep orange flowers is a member of the thistle family and grows in drier regions of Africa, Asia and North America. The dried petals from the plant also have a culinary use as a natural yellow food colouring, sometimes used as a substitute for saffron.
It is perfect for making dressings and dips. Try eating it with some roast garlic, balsamic oil, sea salt and warm, crusty bread. Alternatively, drizzle it onto a salad of papaya, lime, spring onion and coriander for a refreshing, light dish.
This oil can also be used in sweet dishes; make delicious granola by mixing some oats, bran, raisins and your favourite nuts, seeds and grains together. Bake in the oven until lightly toasted and then drizzle with a mixture of malt syrup, apple juice and Safflower Oil. Leave to cool and then enjoy! Safflower oil also lends a delicious texture to frozen desserts.
Suitable to: Ovo Lacto vegetarians, vegans and Kosher. This product is organic.
Ingredients: Organically grown safflower seeds.
The recommended maximum heating temperature of 100°C.
 **Please Note – We have taken every reasonable precaution and proceeded with due diligence, however, we cannot control the risk of cross-contamination in the whole distribution chain. Therefore we cannot guarantee the total absence of any particular allergens.