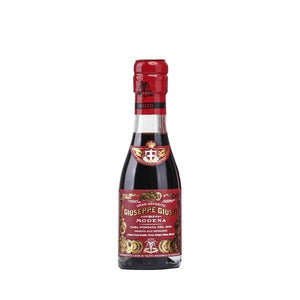 Balsamic Vinegar of Modena. 
The unique Giuseppe Giusti 3 Gold Medals Balsamic Vinegar of Modena

Great Balsamic vinegar relies not only a careful selection of the grapes, but also the cooking system and above all the great complexity of the ageing process, with casks of various woods and sizes. These are the factors that the "maestro acetiere" needs to manage to obtain a great result.

Not to forget time, an important element of the natural processes; traditionally, one generation prepares the balsamic vinegar for the next generation.
Ingredients: Must of cooked grapes, aged wine vinegar.
Storage: Ambient
Product Claims: Vegan, vegetarian, no artificial colours or flavours,
Made In: Italy
What's Unique:  Giuseppe Giusti is a family-run business, founded in 1605 and one of the oldest balsamic vinegar producers in Italy.