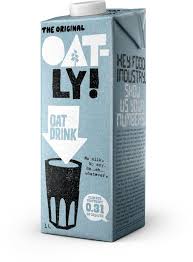 This is our oat drink in an ambient packaging so that you can store it at room temp. It is a great go-to product for just about everything and is loaded with a nutritional balance (protein, carbs, fiber and healthy fat* in a nice amount of each) that would make other drinks exceptionally jealous but since it is made of oats and oats are incredibly humble, well then jealousy is not an issue. When should you use it? Whenever you would use old-school milk from cows — chilled in a glass, for cooking or baking — in exactly the same amounts.
What's amazing: What's not amazing? It's a pretty optimal option for everyday use because it has been enriched with vitamins (D, riboflavin, B12) and calcium and includes 1.5% fat from rapeseed and oats. There is no added sugar whatsoever. Instead, we have made sure that the beta-glucans** in this one is strong and handsome and, as usual, great for your heart.
What might be less amazing: At first, there was a text here that said that this particular product could actually be made organic and in our humble opinion that would make it better but if we did that, we wouldn't be able to add calcium and vitamins and still label it organic (only milk manufacturers can do that because they get special treatment).
* Replacing saturated fats with unsaturated fats in your daily diet contributes to maintaining a recommended cholesterol level.
** Beta-glucans are good for the heart. As a part of a varied and balanced diet and a healthy lifestyle, they contribute to maintaining normal cholesterol levels in your blood. One 250-ml glass of Oatly provides a third (1 g) of the daily requirement of beta-glucans.
Ingredients: Oat base (water, oats 10%), rapeseed oil, calcium carbonate, calcium phosphates, iodised salt, vitamins (D2, riboflavin, B12).


This product is: Free from lactose, milk protein and soya.
Suitable to: Ovo Lacto vegetarians and Vegans.
Please Note – We have taken every reasonable precaution and proceeded with due diligence, however, we cannot control the risk of cross-contamination in the whole distribution chain. Therefore we cannot guarantee the total absence of any particular allergens.