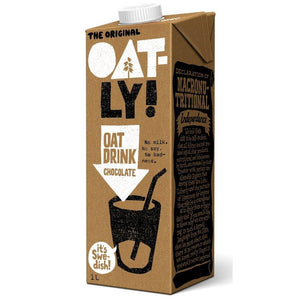 Every kid's favorite: chocolate milk — except there's no milk! Our chocolate oat drink is full of oats instead and these oats contain protein and carbs and fibers and some healthy fat. And if that's not enough we have enriched it with calcium and vitamins so the more you drink the healthier you grow. We probably can't literally promise that legally, but you know what we mean. 
Here's a random idea I tried the other day and it was great. Shake the carton well and then pour it over your morning bowl of muesli. Crazy good. Or do what grandma used to do and heat it up for the thermos and walk across a frozen lake or something romantically Nordic like that.
What's amazing: The cocoa that we source is UTZ certified. This ensures it is subjected to sustainable farming practices and the farmers and their families are given fair working conditions, earn a fair wage and are continually educated regarding new farming methods. Those extra vitamins (D2, Riboflavin and B12) and calcium mean that your kids can guzzle the stuff all afternoon. That's why we put it in a 1 liter packaging.
What might be less amazing: If you check the ingredients list you will find that we have added some sugar to this product, but only 3,5 g per 100 ml (3,5%). The rest of the sugar is found naturally in oats. We also add aromas for the simple reason that they make this product taste great.
Ingredients: Oat base (water, oats 10%), sugar 3,5%, cocoa powder 1%, rapeseed oil,
calcium carbonate, calcium phosphates, iodised salt, flavour, vitamins (D2, riboflavin, B12).
This product is: Free from lactose, milk protein and soya.
Suitable to: Ovo Lacto vegetarians and Vegans.
Stays fresh in the refrigerator for at least 5 days after opening.
Please Note – We have taken every reasonable precaution and proceeded with due diligence, however, we cannot control the risk of cross-contamination in the whole distribution chain. Therefore we cannot guarantee the total absence of any particular allergens.