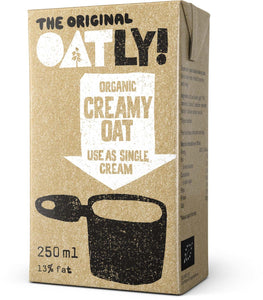 What's amazing: Basically you can use this product instead of cream. Our 13% iMat has become a huge hit, so if you have been already tried that may we suggest taking the plunge into the world of organics.
What might be less amazing: This product tends to separate while standing for periods of time. That's easy to fix, just give the package a good shake and it will be smooth and creamy once again. The reason for this is that the rules that apply to calling something organic limit the use of stabilizers. The additives that we use in this product are highly optimized and limited with each filling a specific function so that this product can be used in any application whether that be hot or cold.
Ingredients: Water, rapeseed oil*, oats* 9%, emulsifier (rapeseed lecithin*), stabilisers (xanthan gum, gellan gum), sea salt, algae (Lithothamnium calcareum).
This product is: Free from lactose, milk protein and soya.
Suitable to: Ovo Lacto vegetarians and Vegans. Keep it chilled in the fridge. Made from organic oats from Sweden. And organic everything else. 
Please Note – We have taken every reasonable precaution and proceeded with due diligence, however, we cannot control the risk of cross-contamination in the whole distribution chain. Therefore we cannot guarantee the total absence of any particular allergens.