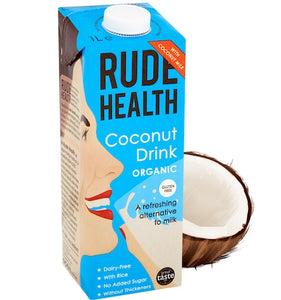 Pour yourself some sunshine. Coconut Drink. A refreshing alternative to milk. We take all the lovely white stuff from coconuts and whip it up until it's smooth. Then we blend it with rice, pure mountain spring water and a pinch of sea salt. The coconut's good oils give it a creamy texture while giving you all kinds of nutrient goodies.
Make any breakfast sunnier by pouring Coconut Drink over a bowl of your morning favourite. Transform your coffee into a luxe latte. Mix it with pineapple juice for a mocktail Pina Colada. Try it instead of milk for pancakes like you've never had them before. You can even add a whole new twist to rice pudding simply by substituting it for milk.
Organic
Gluten-Free
Without Thickeners
Dairy-Free
No Added Sugar
Ingredients: Spring water, Organic rice, organic coconut milk (7.5%), Sea salt.
This product is: Free from dairy, gluten and no added sugar.
Suitable to: Ovo Lacto vegetarians and Vegans.
Please Note – We have taken every reasonable precaution and proceeded with due diligence, however, we cannot control the risk of cross-contamination in the whole distribution chain. Therefore we cannot guarantee the total absence of any particular allergens.