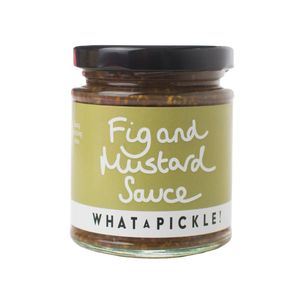 A versatile addition to the store cupboard made with fresh figs, locally grown apples and a special blend of spices.
A saucy little number that is great with cured meats, pork chops or sausages
Can transform the humble mashed potato with just a couple of spoonfuls
Top tip: convert the last little bit into a superb salad dressing by adding olive oil and a splash of white wine vinegar to the jar before giving it a good shake!
Vegan friendly and gluten free
 
Ingredients: Apple, Fig (24%) Sugar, Mustard,(7%) (spirit vinegar, mustard seed,mustard flour, rapeseed oil) Cider Vinegar (contains sulphites) ginger powder, coriander seeds, allspice, kaffir lime leaves.

Storage: Ambient

Made In: Shrewsbury, UK
What A Pickle!: Extraordinary Condiments
Made by Camilla in Shrewsbury
What A Pickle began very simply in my kitchen about 10 years ago, my children were young and I wanted to encourage them to eat slightly spicier foods - I started to make Tomato Chilli Jam for them. It had exactly the desired effect and all three of them now have amazing explorative palates! I love colours and assembling style and my products collectively on the shelf paint a great picture. The colours of the jars have a strong impact wherever they sit. Most importantly of all I carefully produce flavours that appeal to a wide and varied audience, making sure that we have something for everyone, keeping it unique and special and without overtaking on multitudes of differing varieties.