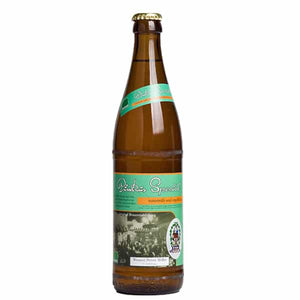 From Munster, this golden strong lager has a superb bitter background to its fresh, light taste. Produced from 100% barley malts, lagered for a full three months and unfiltered to preserve flavour this is arguably one of the best organic lagers available. "A stunning premium lager beer. A rounded malt aroma and palate, and a dry finish in which the hops dominate." Roger Protz, Classic Bottled Beers of the World.
Suitable to: Ovo Lacto vegetarians and vegans. This product is organic.
General Facts and Information:
ABV : 

5.1%

Closure : 

Crown

Country : 

Germany

Type : 

Lager

Bottle Size : 

50cl

Further Information : 

Vegan,
Vegetarian
*Please Note – We have taken every reasonable precaution and proceeded with due diligence, however, we cannot control the risk of cross-contamination in the whole distribution chain. Therefore we cannot guarantee the total absence of any particular allergens.